SACKtoberfest is back: October 15th!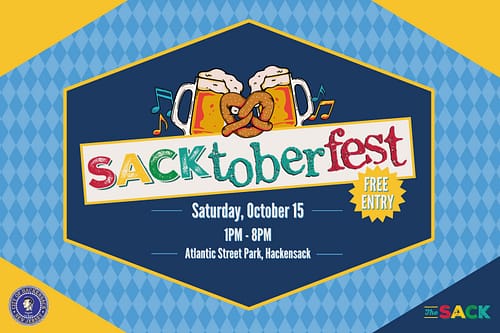 As if we need a legitimate excuse to get together and have a good time these days. Well, now we have a great one—saying goodbye to summer and welcoming the crisp autumn weather with our second annual SACKtoberfest. This German-inspired fall festival will take place on Saturday, October 15, from 1 PM-8 PM at Atlantic Street Park. Last year's event turned out to be the surprise hit of the season, with crowds coming out to enjoy the music, food and microbrews. With the incredible interest in continuing the event, The SACK Business Alliance will be upping the fun factor on all fronts. Here's a sneak peek of what's coming:
All flavors of food trucks:
The Brownie Bar, Cousins Maine Lobster, Empanada Mania, Magic Mike's Smoked Meats, Master Asador, Mozzarepas, Oxtail Gravy Truck, and RainBao
Local Breweries are back:
Alementary Brewing Co., Bolero Snort Brewery, Brix City Brewing, Ghost Hawk Brewing Company and Hackensack Brewing
Our array of artisan vendors:
Asanti's Jewels, Athena Flora Portraits, The Botanical Room, Cozy Customs and The Rose Hammer
Main Street merchants:
Barking on the BLVD, Coffee Break, Evoli Pizzeria, Greek Island Grill and Sea Moss Factory
And as for the entertainment, the non-stop music lineup will be:
1pm-2:45 pm: DJ Covey (Top 40 open format)
2:45-4:30 pm: DJ Keefe D (Latin, Disco, Pop)
4:30-6:30 pm: Awesome 2 and guests (Soul, Classic Hip Hop, Rock, House)
6:30-8:00 pm: Total Eclipse [Closing Band]
Also, back for a repeat show for those who didn't catch it this summer, will be our Stories on Main Street summer Docu Series. Four mini-movies that spotlight inspiring stories from immigrant business owners who have made their mark on Main Street.
And finally, for all the high-octane adrenaline junkies out there, we'll even be offering axe throwing. Keep checking back on our social pages and https://downtownhackensack.org/ for more information and updates about SACKtoberfest—Saturday, October 15, from 1 PM-8 PM at Atlantic Street Park. Tell your friends.
Prost!