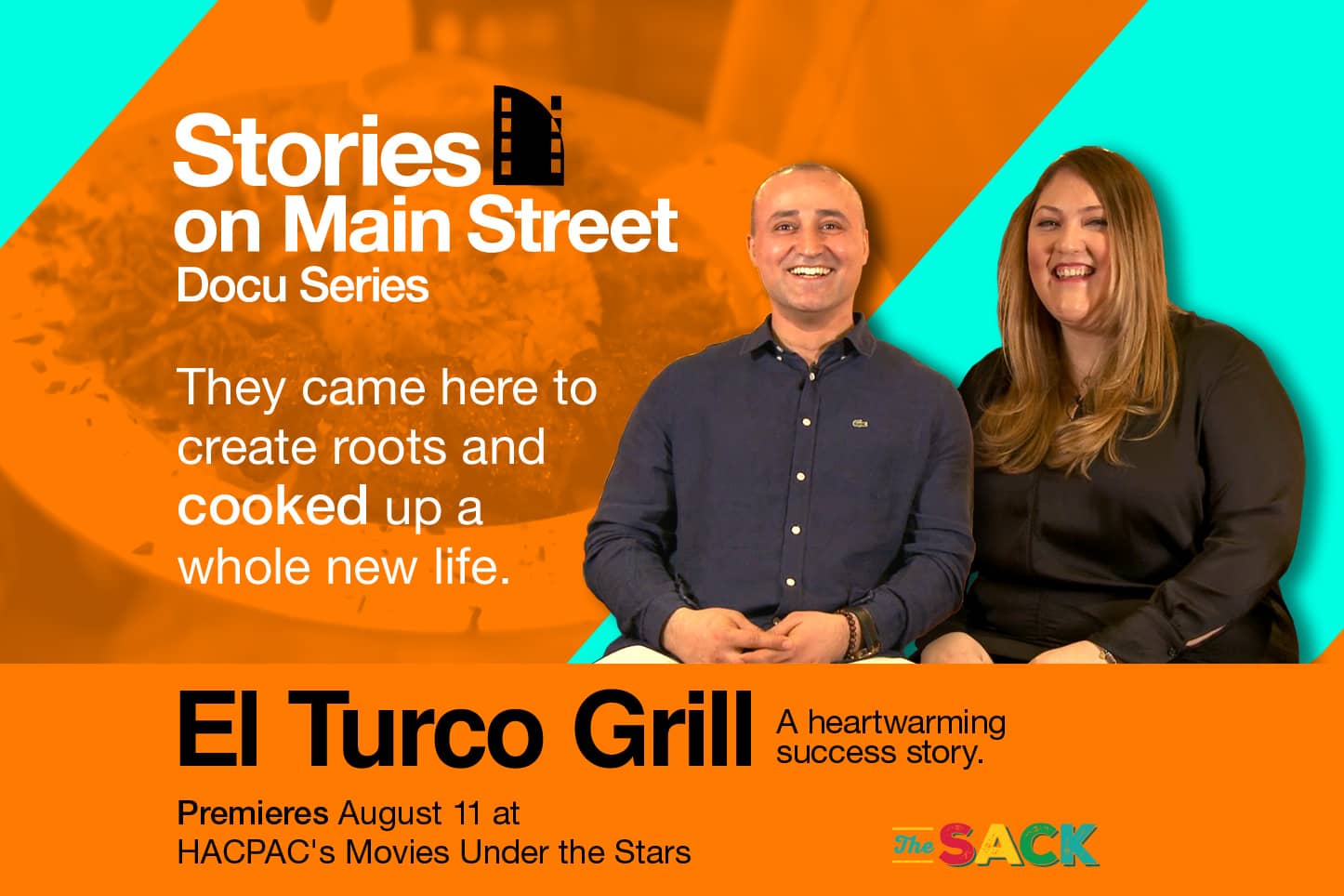 Stories on Main Street presents August 11: El Turco Grill
It's here. Downtown Hackensack's event of the summer has already begun—the Stories on Main Street Docu Series. Last Thursday, the crowd was buzzing with excitement as they spent a serene night under the stars watching an inspiring immigrant success story come to life on the big screen. For The SACK Business Alliance, this event takes getting to know your neighbors to a whole new level. It's not just about getting a glimpse of the inner workings of places you shop or dine—it's learning what brought these owners here in the first place. Why did they choose to make Hackensack their home?
This question is definitely answered with the second film, El Turco Grill (@elturcogrill), run by husband and wife Yusuf and Tugce Ural. The opportunity for a new life and continuing education lured them both to the States. The two then met while working together at a restaurant.
With their dedication and love for each other, they set out to fulfill their dream of opening their own restaurant, El Turco Grill, right on Hackensack's Main Street. The momentous grand opening of El Turco Grill was met with the unexpected challenge of the pandemic. But through it all, they persevered and have kept the doors open today.
Just a few steps inside this quaint eatery patrons are greeted with heavenly aromas and wondrous decorations from Turkey. Patrons are also treated to the freshest vegetables and finest meats cooked up in dishes that pay tribute to what the couple's mothers cooked. Another local favorite is their signature Turkish tea. Though regardless of what you order, you'll taste the true culture captured in every recipe.
As for why they set up roots on Main Street, Hackensack, it came down to location and authenticity. When Yusuf and Tugce came here, they were immediately impressed by an area that takes pride in celebrating all cultures—something close to both of their hearts.
You can witness the incredible life they have built together in the latest installment of the Stories on Main Street Docu Series. The film premieres this Thursday, August 11 at @hacpac_arts next Movie Under the Stars event at 8:30 p.m. in Atlantic Street Park. Hope to see you there!
Stories on Main Street is supported by a grant from the New Jersey Council for the Humanities with funding from the National Endowment for the Humanities (NEH) through the American Rescue Plan Act. Stories on Main is a project of the Northern NJ Community Foundation (NNJCF) in partnership with The SACK Business Alliance.